PHOTOS FROM THE FIELD
Thanks to all who helped make the 2022 National Tribal Forum on Air Quality a complete success! You can view an amazing video and photos that captures the full NTFAQ that can be viewed here!
2022 National Tribal Forum on Air Quality's (NTFAQ's) Breath of Fresh Air 5k Runners/Walkers raised $1145 for Mvskokey Nation Youth Services! NTFAQ's host, the Muscogee Nation partnered with the Mvskokey Nation Youth Services to create beautiful t-shirts for the run that were scooped up by over 40 runners! Be sure to check back on the NTFAQ website for recordings from all the sessions and if you and your Tribe would like to host the 2023 NTFAQ, you can submit a response to this Request for Proposal from ITEP!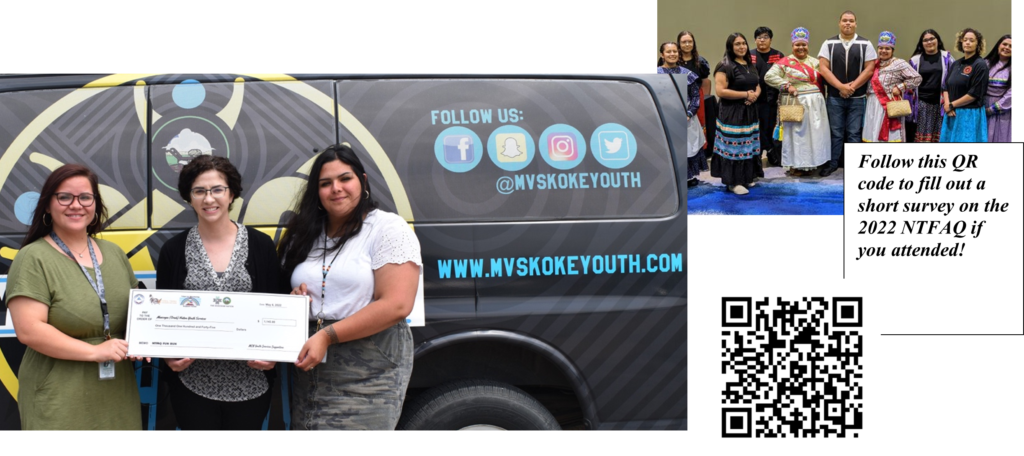 Left to Right: Muscogee Nation's Jasmyne Jack, Jennifer Reyer and Karen McGirt-Rodriguez display the check provided to Mvskoke Nation Youth Services. The funds were donated by the NTFAQ Runners/Walkers shown below at the starting line. A delegation from Mvskokey is shown above that also presented during the awards dinner for 2022 NTFAQ Award Winners, left to right: Emma Ruppell of the Bishop Paiute Tribe, April Hathcoat from the Cherokee Nation and Kris Ray from the Confederated Tribes of the Colville Reservation.