NTAA News!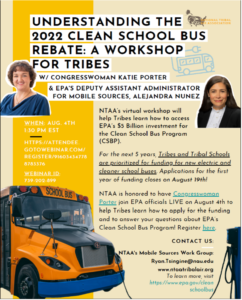 Please join NTAA for a SPECIAL WORKSHOP for Tribes to learn how to access EPA's Clean School Bus Rebate. Join us during this special workshop during NTAA's Mobile Source Work Group call with special guest Congresswoman Katie Porter, EPA's Ale' Nunez and other  presenters EPA and the World Resources Institute (WRI) on August 4th at 1:30 pm ET | Register here!
Top Stories
CNN – 2 dead in the McKinney Fire in Northern California, the state's largest blaze this year
Newsweek – Wildfire Map Shows California, Oregon and Montana Areas Tackling Blazes
The Guardian – Joe Biden hails Senate deal as 'most significant' US climate legislation ever
CNN – All eyes turn to Sinema as Democrats face a week that could transform Biden's presidency
Indian Country Today – State of Alaska recognizes tribes with historic bill
United Nations – In historic move, UN declares healthy environment a human right
Ambient Air Quality/EPA/NTAA/Tribes News
City Journal – Sizing up the reconciliation bill's energy provisions
EPA – EPA Announces Flyovers in the Permian Basin in New Mexico and Texas
ASU News – ASU researchers to address local air-quality concerns
Air Quality News – Can mushroom cladding save us from air pollution?
Earthjustice – Severe Human Health Risks Ongoing in Fairbanks as EPA Fails to Address Some of the Nation's Worst Air Pollution
Newswire – AG Rosenblum asks EPA to consider National Ambient Air Quality Standards for Greenhouse Gases
Bloomberg News – Air Pollution Likely to Contribute to Diseases including Dementia, UK Committee Finds
San Francisco Examiner – California's high COVID rates connected to poor air quality
Texas Tribune – Smog levels in Texas surge during heat wave, bringing worst summer air quality in a decade
US News – Nez Perce Tribe Disputes Idaho Gold Mine Air Quality Permit
Climate Change/Energy
The Guardian – EPA: game not over, says environmental agency leader after supreme court blow
AP News – Richer nations fall short on climate finance pledge
Indian Country Today – Gambling on a climate deal
NPR – What it means to have Manchin backing a bill to fight climate change
Reuters – U.S. Senate bill could be death blow for Biden anti-drilling pledge
The Hill – Inflation Reduction Act will boost EPA efforts to tackle the climate crisis
The Hill – Kentucky Governor says he's worried officials will find bodies 'for weeks to come' after floods
Toxics/Mobile Sources
EPA – EPA Seeks Input on Latest Pollution Prevention Grant Opportunity Funded by $100 Million Investment from President Biden's Bipartisan Infrastructure Law
Denver Channel – Colorado natural gas company $3.25 million for alleged violations of federal, state clean air laws
Energy News Network – EPA considers new rules to push coal plant retirements
Indoor Air Quality
Los Angeles Times – This DIY box helps clear indoor air of the coronavirus. Why aren't more people using them?
The Air Conditioning, Heating and Refrigeration NEWS  – Bill Offers Incentives for Indoor Air Quality Improvements
Safety and Health News – NIST launches tool to help assess ventilation and indoor air quality
Workers Health and Safety Center – Quality indoor air: Follow the evidence and train for solutions