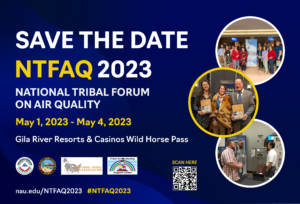 Acceptance letters for NTFAQ presentations/panels/workshops/trainings have been sent out! Thank you to everyone who applied. We're looking forward to another great event.
Keep an eye out for registration early March.
Top Stories
EPA – Air Sensor Loan Programs: Promoting Air Quality Education by Bringing Sensors to You!
Native Science Report – Will Teslas Become the New Rez Car?
NACAA Washington Update – This Week in Review
Ambient Air Quality/EPA/Tribes News
American Heart Association – Mom's exposure to air pollution, even before pregnancy, may raise baby's heart defect risk
Forbes – Air Pollution More Dangerous Than Previously Understood: Here Are The Biggest Health Risks And How To Reduce It
Psychology Today – 7 Ways to Help Protect Your Brain From Air Pollution
Toxics/Mobile Sources
E&E – EPA undoes Trump-era power plant rollback
Earthjustice – EPA Reaffirms Mercury and Air Toxics Standards will Save Lives
Autoblog – For EV drivers, realities may dampen the electric elation
Indoor Air Quality/Environmental Justice
Homes & Garden – This is what is making your home dusty, and what to do about it
Caltech – Paul Wennberg discusses gas stoves and other factors that can contribute to poor indoor air quality
E&E – Biden orders agencies: Do more on racism, environmental justice