Free Webinar for The National Electric Vehicle Initiative for Tribal Nations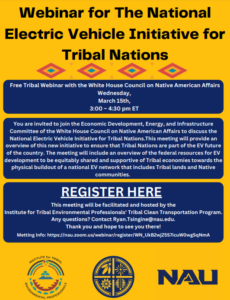 You are invited to join the Economic Development, Energy, and Infrastructure Committee of the White House Council on Native American Affairs to discuss the National Electric Vehicle Initiative for Tribal Nations on Wednesday, March 15th, from 3:00 pm – 4:30 pm Eastern Time.
This meeting will provide an overview of a new initiative to ensure that Tribal Nations are part of the EV future of the country. The meeting will include an overview of the federal resources for EV development to be equitably shared and supportive of Tribal economies towards the physical buildout of a national EV network that includes Tribal lands and Native communities. This meeting will be facilitated and hosted by the Institute for Tribal Environmental Professionals' Tribal Clean Transportation Program.
This event is free and open to the public on Wednesday, March 15th from 3:00 pm – 4:30 pm ET. You can register and attend by clicking here.
REMINDER! Greetings from the TAMS Center! We are announcing a call for nominations for the Virgil Masayesva Environmental Excellence Award Further information and nomination form can be accessed at the TAMS Website.
Virgil Masayesva Tribal Air Programs Excellence Award
– https://www7.nau.edu/itep/main/tams/docs/forms/TAMS-VMAward-NomForm_2023.docx
Deadline for the VM Award Nominations – March 24, 2023
Top Stories
Whitehouse.gov – President Biden's Fiscal Year 2024 budget requests $12.083 billion
EPA News Release – Biden-Harris Administration Announces Availability of $16 Million for Pollution Prevention in Environmental Justice Communities
EPA – Indoor Environments – Overview of EPA's State & Tribal Indoor Radon Grants Program 2022
NACAA Washington Update – This Week In Review
Ambient Air Quality/EPA/Tribes News
GAO.gov – Wildfire Smoke: Opportunities to Strengthen Federal Efforts to Manage Growing Risks
The Guardian – Revealed: the 10 worst places to live in US for air pollution
The Mancunion – Clean air, clean mind: The impact of air pollution on our brains
Toxics/Mobile Sources
USC Price – Pollution Paradox: Study finds L.A. residents who drive less are exposed to more air pollution
EHS Daily Advisor –  Back to Basics: Hazardous Air Pollution
The Pulse – EPA proposes new rules for toxic pollutants discharged from coal-fired power plants
Indoor Air Quality/Environmental Justice
NBC DFW – Dallas Air Quality Monitoring Program to Collect Pollution Data
Nature – Indoor air is full of flu and COVID viruses. Will countries clean it up?
EIN News – Improve Indoor Air Quality in Schools with Available ESSER Funds