NTAA NEWS!
REMINDER! Call for proposals for NTFAQ 2023 is open until January 27th! All applications are welcome!  https://forms.gle/GXLS8QztLLMs5H518
Join the national conversation on how Tribes are implementing the Clean Air Act in partnership with the U.S. EPA to improve air quality in our communities. Forum organizers are actively seeking proposals for presentations, trainings, and other informational sessions that support our NTFAQ conference goals! Proposals should relate to air quality topics relevant to tribal stakeholders and should discuss direct experiences and/or original research.
Timeline:
Presentation Proposals Due:  January 27th, 2023
Letter of Notification (will include instructions and timeline): February 20th, 2023.
If you have questions about the agenda, presentation options, or other ways to participate in the event, please contact [email protected] or [email protected]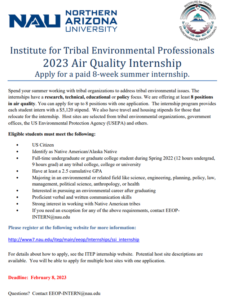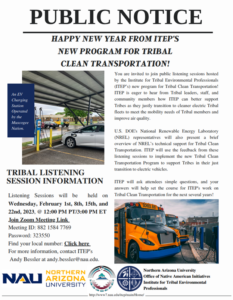 Top Stories
EPA.gov – EPA Proposes to Strengthen Air Quality Standards to Protect the Public from Harmful Effects of Soot
E&E – EPA Unveils 100M for Environmental Justice
The EOP Inflation Reduction Act guidebook is live and an excellent resource for stakeholders!  IRA webpage with the "living guidebook" and links to the PDF and downloadable data set: https://www.whitehouse.gov/cleanenergy/inflation-reduction-act-guidebook/
IRA Guidebook PDF: https://www.whitehouse.gov/wp-content/uploads/2022/12/Inflation-Reduction-Act-Guidebook.pdf
NACAA – Washington Update
Ambient Air Quality/EPA/Tribes News
Environmental Defense Fund – EPA Methane Proposal makes critical progress but work remains to Quickly Finalize Protective Standards
CNN Health – EPA proposes new rule to crack down on deadly air pollution
Healio – Air pollution associated with nonviral asthma attacks among urban youth
Earthjustice – Why your Air Quality Matters and how you can fix It
NRDC – Local air quality monitoring lagging across U.S., NRDC Finds
Climate Change/Energy
GreenWire – Great Salt Lake could vanish in 5 years, report says
University of California – UC awards $16.4M in grants to address climate change, health inequities
USGS – National Climate Action Science Center Collaborates on New Tribal Climate Resilience Assessment Report
NPR – Climate change makes heat waves, storms and droughts worse, climate report confirms
E&E Climatewire – How sending climate aid abroad helps the U.S.
Toxics/Mobile Sources
Geek Wire – Washington, Oregon, join California in requiring all new vehicle sales to be EVs by 2035
E&E – How carmakers are crafting the EV-charging experience
E&E – EPA inks deal to clean up Keystone spill
The Hill – Biden Officials lay out Roadmap for Net Zero Transportation by 2050
Indoor Air Quality
The Guardian – Too many smelly candles? Here's how scents impact the air quality in your home
Harvard Business Review – Designing Buildings that are both Well-Ventilated and Green
Los Angeles Times – U.S. Safety Agency to Consider ban on gas stoves amid health fears