NTAA News!
The NTAA is excited to present the 2022 Status of Tribal Air Report! A recording of yesterday's STAR release webinar is available on NTAA's website.
Call for proposals for NTFAQ 2023 is now open! https://forms.gle/GXLS8QztLLMs5H518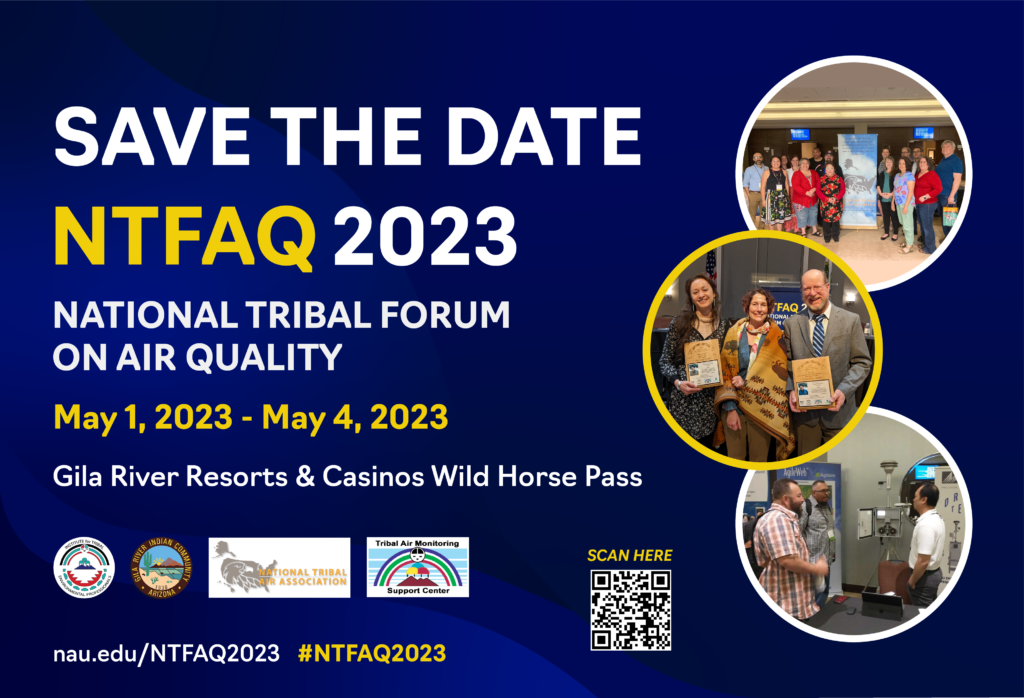 Top Stories
Reuters – Hazardous storm system hit United States ahead of winter holidays
The Hill – 3M will phase out its 'forever chemical' production by 2025
Native News Online – RESPECT Act Passes House of Representatives, Will Go To President's Desk for Signing
Alaska Public – Alaska, source of carbon-emitting fossil fuels, aims to raise money by storing carbon
Native News Online – Native News Weekly (December 18, 2022): D.C. Briefs
E&E News – EPA revokes Trump-era air permitting policy
Ambient Air Quality/EPA/Tribes News
E&E News – End of the line for permitting bill, but 2023 fight looms
CNN – California regulators approve plan to achieve carbon neutrality by 2045
E&E News – EPA overhauls chemical reviews to boost transparency
EPA – EPA Announces FY 2022 Enforcement and Compliance Accomplishments
AP News – Scientists: Atmospheric carbon might turn lakes more acidic
Reuters – U.S. biofuels proposal would lift near-term greenhouse gas emissions, EPA says
This week's NACAA Washington Update
Climate Change/Energy
Climate Signals – Arctic Amplification
Bloomberg – High US Power Prices Risk Squeezing Coal in Grid Auction
NPR – The Keystone pipeline leaked in Kansas. What makes this spill so bad?
New Republic – This Year's Big Breakthroughs on Climate
AP News – Manchin bid to speed energy permits to reemerge in 2023
The Hill – Fusion breakthrough will lead to investments, but its use won't come overnight 
Utility Dive – After substation attacks, FERC orders NERC to consider increasing grid security requirements
Toxics/Mobile Sources
The Washington Post – Postal Service will electrify trucks by 2026 in climate win for Biden
Vox – America's most important EV is also its goofiest
Mongabay – Coffee capsules: Brewing up an (in)convenient storm of waste
Bloomberg – Raw Lithium Exports Banned in Zimbabwe as Demand and Prices Soar
Grist – A rare Nevada flower gets 'endangered' status, raising questions for a proposed lithium mine
Reuters – EV tax credit complexity pressures deadlines on U.S. Treasury rule-writing
Reuters – Exclusive: PepsiCo to roll out 100 Tesla Semis in 2023, exec says
CNBC – When searching for a flight, be wary of offers to add your climate impact to the ticket price
EPA – EPA Updates New Chemical Review Program Webpage, Metrics, Affirming Commitment to Increased Transparency
Utility Dive – New clean energy investments have topped $40B since the IRA passed, report says
Indoor Air Quality
Yale Climate Connections – How to save on winter home heating costs
KSL News – Indoor air quality can impact risk of viral transmission
Nexus Media News – Gas Stoves Taking a Toll on Our Health
The Hill – Consumer safety board to weigh regulations on gas stoves